Submitted by pkruger on Mon, 07/30/2018 - 2:15pm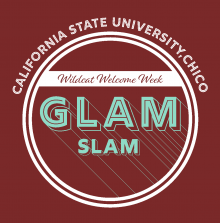 Put a little fun, art, science, history and culture in your life by visiting the galleries, libraries, archives, and museums (GLAMs) of Chico State!
As part of this un-tour, Meriam Library Special Collections & University Archives, will be featuring treasures from the vault in the research room as visitors take themselves on a tour of GLAMs across campus.
The GLAM Slam event will be from 3:00 pm to 7:00 pm on Wednesday August 29th. A total of seven repositories are involved, with five GLAM locations welcoming visitors. 
The GLAM Slam will have art-opening style refreshments along with door prizes and a grand prize drawing. To participate pick up a GLAM passport at any location and visit in any order.
Passports are available at all GLAM locations:
Meriam Library, Special Collections & University Archives
Meriam Library building, 3rd floor, room: MLIB 305
Valene L. Smith Museum of Anthropology featuring Northeast Information Center
Meriam Library building, room: MLIB 180
Janet Turner Museum
Arts & Humanities building, room: ARTS 130
Jacki Headley University Art Gallery
Arts & Humanities building, room: ARTS 121
Gateway Science Museum featuring Big Chico Creek Ecological Reserve
625 Esplanade room: GSCI 110