Submitted by jrshepherd on Tue, 03/27/2018 - 9:57am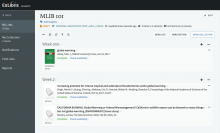 Have you ever struggled with how to present course readings to students in a logical and organized manner? Have students ever said they couldn't find or didn't see a reading that you had provided in your syllabus or reading list?
Meriam Library is excited to offer a new tool, Leganto, which allows instructors the ability to create dynamic online reading lists and provides seamless access for students to course content. The Library is sponsoring a Faculty Learning Community (FLC) where participants will develop course reading lists and best practices for Leganto and the campus. 
Leganto allows faculty to search the Library directly, easily linking to library content. Faculty also have the ability to upload and organize their own content, add web content, view usage of course content, and include collaborators on their course reading lists. Leganto is integrated as a tool in BBLearn or it can be used as a stand-alone application.
The Faculty Learning Community (FLC) is an opportunity for faculty and the library to better understand how reading lists via Leganto can best be utilized on campus. The participants will create their own course reading list and establish best practices for Leganto on campus. The FLC will meet for four weeks for an hour and a half each week. More information can be found on the application form. Applications are due April 6, 2018 and participants will receive $250 in taxable income for their participation. Please contact Jodi Shepherd at jrshepherd@csuchico.edu for more information.