Submitted by dgreenberg on Fri, 04/06/2018 - 5:23pm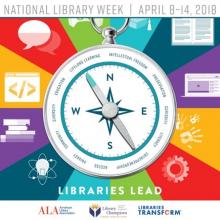 This week, the Meriam Library joins libraries in schools, campuses and communities nationwide in celebrating the dynamic changes that are happening in today's libraries. April 8-14 is National Library Week, a time to highlight the changing role of libraries, librarians and library workers.  The National Library Week 2018 celebration will mark the 60th anniversary of the first event, sponsored in 1958.
Every day, libraries of all types prove that they are powerful agents of community change. No longer just places for books, libraries now offer a smorgasbord of free digitally-based programs and services, including 3-D printing, ebooks, digital recording studios and technology training.
 Libraries aren't only a place of quiet study, but also creative and engaging centers where people can collaborate using new technologies, research, or just relax. Meriam Library offers access to a variety of print and digital resources, including e-books, online databases, a popular book, dvd, and graphic novel collections, and a collection of books for all disciplines that can be accessed in person or online. There is technology for borrowing, reservable study and creative spaces, and a Makerspace.
Libraries of all types are evolving to meet the needs of the communities they serve. Come by and visit-we are here to help! And check out the display on the 2nd floor of Meriam Library. Feel free to check out a book or two on display!