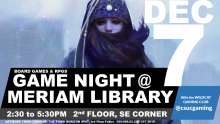 Before you immerse yourself in finals, or head off for the winter holiday, come enjoy a well deserved break with the Wildcat Gaming Club.  They're hosting the last Game Night at Meriam Library for the calendar year on Friday, Dec 7th, from 2:30 to 5:30 p.m. in the southeast corner of the 2nd floor.
The WGC will have board and card games on hand and have been running a couple room of role-playing games for Dungeons and Dragons.
If you show up early, there will be a pair of FREE Game Night at Meriam Dice for you to keep!