Submitted by dgreenberg on Wed, 05/09/2018 - 3:33pm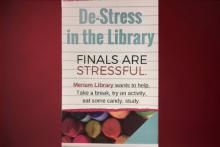 The end of the semester is fast approaching, where has the time gone?!—papers and projects are due, oh no here come finals, and the pressure is on. Come stop by the second floor of Meriam Library where we can help you relax and recharge.  A table will be stocked with a variety of fun activities including puzzles, stickers, and crayons and coloring pages. Our goal is to offer a welcome diversion, allowing you to unwind, take a break and disengage from studying for a few minutes. Besides fun diversions, we will also provide note taking provisions, and snacks, while supplies last. Check out the Makerspace on the 2nd floor of Meriam Library, where board and video games are waiting for you to come take a break and play. While you are there, you can also make your own custom stickers, buttons and more. Hurry the Makerspace will be closing for the semester on May 25. And, last but not least, do not forget about our outstanding DVD collection! We hope you can then return to studying fresh and ready to go! 
May is also Mental Health Awareness Month and mental health is something everyone should care about. Check out the display next to the De-stress table-there are books to help with studying, examining mental heath issues and ways to cope. If you are feeling more stressed than normal or feel you need help check out the flyers posted on the display with information on where to get help on campus. 
Free coffee will be available Monday, May 14th and Tuesday, May 15th from 2-4 or while supplies last on both the 2nd and 4th floors of the library.
This semester Meriam Library will host the Butte Humane Society Therapy Program in the breezeway of the library, Monday, May 14th. Come play with adorable animals to help start your studying off right!
Dates and times table will be stocked:
May 9-16, Monday-Friday, 10:00 am – 5:00 pm
"Remember, we are pulling for you. We're all in this together!" Red Green