Submitted by pkruger on Thu, 10/12/2017 - 2:41pm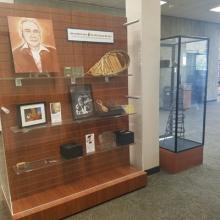 Check out the exhibit: We've Been Here, We will always be here: Traditional & Contemporary Native American Art
This exhibit is a collaboration of Chico State Native American Heritage Society and local Native American community members. It will be on display through December 15th, 2017 located on the 4th floor of Meriam Library.
Contributing Artists:
Kyle McHenry, Mechoopda
Christina McHenry, Navajo
Ali Meders-Knight​, Mechoopda
Daisy Aguilera, Mechoopda
Sandra Knight, Mechoopda
Victoria Lopez, Apache
He-Lo Ramirez, Mechoopda
Don Hankins, Plains Miwok
Christina L. Quigley, exhibit coordinator describes the project as "We gather together to show diversity of living cultures and to celebrate traditions of Native California people who live in a modern world. We hope to dispel stereotypes, as culture carriers and indigenous artists present what Native American people are doing today."
Exhibit created with the support of Valene L. Smith Museum of Anthropology and Meriam Library.