Submitted by pkruger on Tue, 10/31/2017 - 1:20pm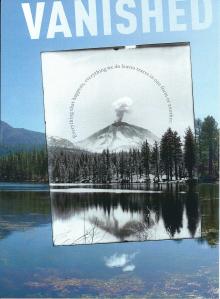 Meriam Library Special Collections (MLIB 305) is an exhibit location for:
VANISHED: A Chronicle of Loss and Discovery Across Half a Million Years
Byron Wolfe, Sheri Simons, Troy Jollimore, Heather Altfeld, Oliver Hutton, Dr. Rachel Teasdale
Come by and see the interactive display of Mount Tehama in Special Collections October 30-December 15 2017.
Vanished: A Chronicle of Loss and Discovery Across Half a Million Years is a cross-disciplinary project involving two visual artists, a philosopher, writer, volcanologist, and graphic designer. Collectively, the six collaborators explore four lost icons and consider how we assemble the past through fact, fiction, and myth. The results are an interconnected collection of new and historic photographs, illustrations, sculpture, sound, and writing.
Vanished will be on display in three different locations on the Chico State campus: The Jacki Headley University Art Gallery, Special Collections in Meriam Library and the lobby of the Valene L. Smith Museum of Anthropology.
This project focuses on four vanished icons:
The Missing Mount Tehama: A Vanished Stratovolcano (600,000 B.C.)
Mount Tehama is an eroded andesitic stratovolcano in the Cascade Volcanic Arc and the Cascade Range in Northern California. The combination of continued hydrothermal activity and glacial erosion have removed the central cone of the volcano.
A Return to Deer Creek for Ishi, "the last of the Yahi" (1911 – 1914)
Ishi was the last member of the Yahi, a group of the Yana of California. Widely acclaimed in his time as the "last wild Indian" in America, Ishi lived most of his life completely outside modern culture. In 1911, he emerged at a slaughterhouse in Oroville, CA.
Sudden Void: The Fall of the Hooker Oak (c. 1750 – 1977)
The Hooker Oak was an old large valley oak tree in Chico, CA, that fell in 1977. The tree was nearly 100 feet tall and the circumference of outside branches was nearly 500 feet. 
A Columbian Mammoth in Bidwell Park: Lost, Found, Then Lost Again (10,000 B.C. – 1999)
In 1999, a Columbian Mammoth tooth was found in Bidwell Park in Chico, CA, but later lost during a cleaning. 
Artist Panel:
Thursday, November 9, 5:30pm
Rowland Taylor Hall, PAC 134
Followed by a reception in the gallery
Walk & Talk:
with Kelly Lindner & Sheri Simons
Tuesday, November 28, 5:30pm
Jacki Headley University Art Gallery
Reading:
Heather Altfeld & Troy Jollimore
Thursday, December 7, 5:30 pm
Jacki Headley University Art Gallery
 For more information please visit:
www.csuchico.edu/art/galleries/univgallery.html