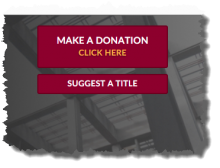 Hey Campus! As part of the ongoing Meriam Library renaissance, we've unveiled a new means by which you can tell us what items YOU think that the library should offer as part of its collections. 
Featured at the bottom of EVERY PAGE (It's true! Scroll down there and see if I lie!) is a button to Suggest a Title for the library collection.
"What do we mean by title?" you ask.  Well, we mean books, of course, but we also mean...
Graphic novels
TV shows on disc
DVD movies
and maybe even a few Video Games
The videos and graphic novels we buy will become part of our expanding Popular Materials and Media collections located on the 2nd Floor, with the goal of supporting the curriculum of classes that rely on popular media for their lesson plans but also because we feel that part of what a library should offer, even an academic library, are materials that satisfy our interests outside of the classroom, too.  Plus, who can afford that Netflix subscription on  work study?  Amiright? 
So start your typing, campus colleagues, and give us the word on what you want to see!