Submitted by rwschwab on Mon, 07/10/2017 - 7:18am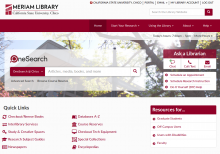 Maybe you've already noticed: Meriam Library's website has received a facelift!
Our new site is built with today's student in mind. The mobile-friendly design allows you to browse when you need it, and our events and news feeds will keep you up-to-date with everything you'll need to know about what's happening at Meriam Library.
Contacting a librarian is easier than ever with our Ask A Librarian widget. Call or text, chat or email, get in touch the way that works best for you.
OneSearch, our new all-in-one search interface is up front and center on the homepage, so you can get to the articles, journals, books, and other resources you need quickly.
Speaking of quickly, we've put our most used services and resources on the homepage as well. Look for the Quicklinks heading and jump directly to where you need to go.
At Meriam Library we take accessibility seriously, and our new website shows it. We have ensured the site is accessible to all, using ARIA and WCAG 2.0 standards.
On the backend, our site is built using Drupal, an open-source content management system used by organizations like the White House, the BBC, and Chico350.org. This system allows library staff to easily keep the site updated and provides us the opportunity to continue to innovate our service offerings.
We hope you enjoy our new site, and welcome your feedback.