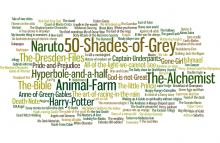 Responses to the Questions of the Week have been amazing!  We really enjoy learning more about what you all are reading and watching.  Take a look at the final board listing your favorite TV shows and Movies:
If you can't read all the little squares, we'll share that  the Chico Top 5 TV Shows and Movies were all TV shows.  Here's the list:
Rick and Morty (Adult Swim)
Shameless (Showtime)
A Game of Thrones (HBO)
The Office (NBC)
Narcos (Netflix)
Overall, 80%, or 201 of the 250 responses, were TV shows, all of which are, of course, streamable somewhere online.  See if you can find your own votes in this word cloud of student responses:
Responses to your favorites books and graphic novels were no less diverse more diverse, with Fifty Shades of Grey, holding five votes, being the most popular book among participants.  Animal Farm, Naruto, and The Alchemist were all tied at four votes each.   Here's a word cloud of all the responses you gave:
Aside from just being curious about what you're reading and watching at Chico State, these poll results are helping the library pick titles for our expanding Popular Materials section on the second floor.  (Say what?!)  So if you're still interested in sharing a favorite with us and miss the big boards, fill out a form the suggestion box in the Popular area, or you can fill out his handy suggestion form online.
Speaking of popular, did you know we now have all three volumes of The Walking Dead Compendium available for checkout?  It's true, Carl!  Go check them out, and let us know what else you'd like to see at Meriam Library!