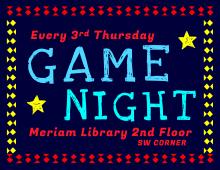 By student demand, Every third Thursday of the month is now Game Night at Meriam Library. We'll be meeting in the SW corner of the 2nd floor (near room 212) from 4:00 - 7:00 PM for open board games and Xbox One. This is a scaled down version of the popular Game Night at Meriam Library event we had at the start of the school year, so if you've been wanting to get more time in with Settlers of Catan, or have a board game or Xbox game of your own to bring -- this is the place to do it.
Games on hand in the new and expanding collection at Meriam Library include Pandemic, Codenames, Catan, Machi Koro, Apples to Apples, and a bunch more.
We hope this ongoing activity helps students find a new kind of niche on campus. If you're already in a game group and are looking for new members, this isn't a bad time to show up, either.
See you Third Thursdays!