Submitted by rwschwab on Mon, 08/28/2017 - 10:23am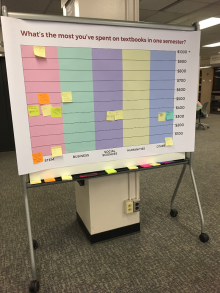 At Meriam Library, we love to discover new information. While we have plenty of peer-reviewed articles and scholarly research on hand, we also want answers to questions such as:
If you could go back in time, which book would you give your younger self?
What do you need help with the most at the library?
And, what's the most you've spent on textbooks in one semester?
That last question is now up on our new Question of the Week whiteboard. Come check it out on the 2nd floor of the library, next to the elevators.
Please help us answer these important questions, and check back each week to see the new question and how others have answered. Some answers will be used to help us improve the library, and others will be just for fun.