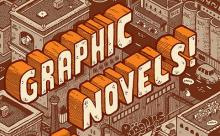 The Popular Materials collection on the 2nd floor is home now to our ever-expanding collection of Graphic Novels, patrons!  If you've heard about series like Saga, The Invisibles, Ms. Marvel, the classic Love & Rockets, or Sen, John Lewis' autobiographical March, you'll be excited to hear that these and more are coming to Meriam in the new Graphic Novel section of the second floor.

If you're new to Graphic Novels, we have some more familiar starting places like The Walking Dead, the basis for the AMC TV series; Archie, inspiration for the Netflix series, Riverdale; Ta-Nehisi Coates' Black Panther; and the adaptation of Octavia Butler's amazing novel, Kindred -- but don't miss out on the book of that one, either.
Graphic Novels are available for check out like any other book in Meriam Library -- so stock up on a few for the long weekends and come back for more.  
The best part, readers, is that while the collection is being updated regularly, if there's a title you think we shouldn't miss out on, you can let us know by filling out the Suggest a Title form at the bottom of every page of our website.
We're excited to offer these materials to the CSU community and hope you're ready to try out something new!