Submitted by dgreenberg on Thu, 05/11/2017 - 6:03pm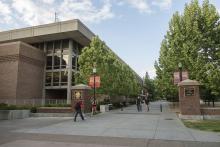 By Erika Paulus The Meriam Library is a second home to numerous students at Chico State. It is a place where they spend long days and late nights together. A place where people can gather, collaborate, and often rest in between classes. It is a community space, and the library faculty and staff are working hard to make sure everyone feels welcome. "We want everyone to know that the library is a welcoming environment to absolutely anyone," said the Dean Patrick Newell. As a partner with the Office of Diversity and Inclusion, the Meriam Library is taking new approaches to offer a more inclusive space.
"Chico State students are diverse, and we need to provide materials that meet their needs," Newell said. "The 'one size fits all' approach simply does not work anymore." Newell mentioned that this year the library worked with the Office of Diversity and Inclusion to make welcome signs that are located on every floor of the library. There are also single-person restrooms that are not gender specific, and there will be lactation and breastfeeding rooms available soon. Not only are there new changes being made to the building, but special programs offered to students as well. "We have been reaching out to different academic programs to help demarginalize them," Newell said. "On the fourth floor we have tutoring available out in the open, which makes it available and welcoming to students." Starting this year, the library will be hosting an annual event to celebrate the faculty's hard work they put towards the library. In addition, on the fourth floor there is a new Chico State Authors Wall, educating others about what is produced at the University
"The world is continuing to be more diverse, and we have to be accommodating to our incredibly complex and diverse students"
"We have a lot of people writing books and articles, and we want to recognize them," Newell said.
In addition to the changes made in the library so far, Newell admits that there are still a lot of projects he would like to accomplish. "I would like to have a family room in the library for students who have children," Newell said.
"What keeps people from graduating are other responsibilities, and if we partnered with someone on campus to provide daycare at certain times in the library I think it could relieve barriers for people."
The library will be starting a program in the fall called "Question of the Week," which will encourage an open dialogue between the students, faculty and staff. "Textbooks are another barrier that people face, and in the 'Question of the Week' we want to ask students what their most expensive textbook is," Newell said. "We received a grant from [the Center for Excellence in Learning and Teaching, a University program established to enhance student learning], and asked for a Student Learning Fee Grant to purchase the most expensive textbooks and put them on reserve for students to use." Newell commented that the Student Learning Fee Grant will help students utilize needed materials without making the choice between buying a textbook or buying groceries. "We know what we are, but we want to know what students need," Newell said. "Studies have shown that the library is a huge educational symbol and means something worthwhile to students, especially first-generation students, and we want to make sure we are here for them." The library faculty plans to make the space more inclusive by starting a library advisory group to make sure the students have a voice in what happens there. Newell believes that this will help the library better plan for what students need and will introduce them to a new kind of diversity. "The world is continuing to be more diverse, and we have to be accommodating to our incredibly complex and diverse students," he said. The Office of Diversity and Inclusion has encouraged the library to make these changes to create a sociocultural environment that supports people in getting their education. Newell admitted that in order to accommodate to such an environment, the library faculty and staff need to continue to work together and make it known that the library is here to help students succeed. "Chico State is a very welcoming, warm community and I am constantly impressed by how cohesive the faculty, staff and students are," Newell said. "I admire how aware and active diversity is on this campus and I attribute that to the Office of Diversity and Inclusion. They are doing a wonderful job."