Submitted by pkruger on Mon, 04/10/2017 - 5:33pm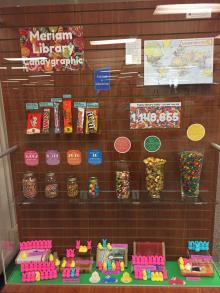 Ever wonder how many people visit the library in a year (1,148,865),  or how many computers we have (187) or how many group study rooms (30) or participants in library instruction (4,060) or where we borrow inter library materials (see world map on display).  All this and more currently on display on the second floor in CANDY form. Us library peeps here to help you succeed at Chico State.
We are celebrating National Library Week, so if you are sweet on the library, come on by and check it out.
Curated by Rachel Arteaga rarteaga@csuchico.edu and Pam Kruger
pkruger@csuchico.edu